Five Star Artists
Most famous artists of all time.
Grandma Moses /
Anna Mary Robertson Moses  (1860 – 1961) A National Icon who portrayed 19th century New England.   
Grandma Moses, or Anna Mary Robertson Moses, remains the #1 most famous primitive artist, ever.
Grandma Moses Video, Brief biography and artwork.
President Harry S. Truman presented her with the 'Women's National Press Club trophy Award' for outstanding accomplishment in art in 1949 and the White House owns one of her painting, "Fourth Of July" which is commemorated on a US postage stamp.
Jerome Hill directed the 1950 documentary of her life, which was nominated for an "Academy Award". In 1952, she published "My Life's History, her autobiography. "In it she states… "I look back on my life like a good day's work, it was done and I feel satisfied with it. I was happy and contented, I knew nothing better and made the best out of what life offered. And life is what we make it, always has been, always will be."  In 1955, she appeared as a guest on "See It Now" , a television program hosted by Edward R. Murrow.
"Grandma Moses," remains famous for her nostalgic paintings that depict pleasant rural American life in the 1800s.
The Moses clan continues to live in upstate New York where they continue to create paintings that depict rural 19th century New England life which look like to the works of their matriarch, Grandma Moses. Her descendants include Fred E. Robertson Moses, Forrest King Moses and Winona Robertson Fisher, Will Moses and Winona Robertson Fisher.
'Naive Art', or 'Outsider Art', refers to works by artists in sophisticatedsocieties who reject or lack professional training. Naive artists create art with the same passion and intentions as trained artists, but work without formal knowledge of methods and training. Naive artwork is characterized by the use of bright strong colors, highly detailed images, and an absence of formal perspective. Naive art represents memories, dreams, fantasies and scenes from every day life, with an emphasis on color and shapes.
Naive Art vs Folk Art
'Naive Art' is often associated with 'Folk Art', but they are very different. 'Naive Art' by definition is a product created by 'unschooled' individuals.  'Folk Artists' on the other hand work within a cultural milieu influenced by tradition, politics and religion.
Primarily 'Folk Art' (wood, paper, clay or metal) is utilitarian and decorative, rather than aesthetic or personally expressive.  
Anyone can be a 'Naive Doctor', but anyone can't be a 'Folk Doctor' unless his or her practice sprang from an outside group with an established tradition, like Alaska Inuits.   
Examples of 'Folk Art' may be seen in these wooden Russian nesting dolls, rugs, quilts, baskets, ceramics  toys and hand made fishing lures.
'Naive Art' sometimes called 'Outsider Art" is less restrained by social structure, political correctness or tradition, but governed by personal aesthetics, depiction and personal expression.  'Naive Art' emerged in the last seventy years as one of contemporary art's most important styles, because it endured ever changing popular styles around it and remained generally the same. It is interesting to note that despite the large number of primitive or naive painters around the world, they all possess a distinct unity of style. Famous Naive artists include Henri Rousseau, Joseph Pickett, Morris Hirshfield, Jean-Michael Basquet, Gaugan, Grandma Moses and her descendants.
Her desire to paint was triggered by her inability to do needlework due to arthritis. Anna Robertson was born in 1860 in New York, married at the age of 27, and bore 10 children, out of which only 5 survived. Anna Robertson was feisty and strong willed and after the death of her husband in 1927 she moved back to New York from Virginia. The genius of Grandma Moses was discovered by an art collector, Louis Calder, during the Depression when she was trying to sell some her pieces at the "Women's Exchange".
Calder bought many of her pieces and by 1939 she had three showings in the Museum of Modern Art in New York City.
One year later she had her first solo exhibition in New York.  According to the art world Grandma Moses's paintings were of Primitive or Naive style. She painted scenes on pieces of old wood with simple textures, but complex content. She portrayed nostalgic happy real everyday life scenes, like "Currier and Ives".  Her style echoed stitching on fabric which she had done extensively before arthritis prevented her from stitching. In the 1930s she switched to painting and then her medium of choice was 'house paint'. Her art career began at age '75' and continued till her death in 1961 at the age '101'. Grandma Moses completed about "1,600" paintings. Anna Robertson may have been called an amateur, but she consistently earned impressive fees and contributed tremendously to the Naive Art movement of the 20th and 21st centuries.
When Grandma Moses died on December 13, 1961, at the age of 101, she had been a 'regular' in newspapers and magazines for more than two decades and her paintings were  collected by museums in the US, Austria, France and the United Kingdom. Grandma Moses is buried in the Maple Grove Cemetery in Hoosick Falls, NY.
BIOGRAPHY
Anna Mary Robertson ("Grandma") Moses
(1860-1961)
Anna Mary Robertson was born on September 7, 1860, in Greenwich, a small community in upstate New York about thirty miles northwest of Bennington, Vermont. Her father, Russell King Robertson, was a farmer and also operated a flax mill. While Anna Mary's five brothers helped their father at the mill and on the farm, she and her four sisters were taught to master a variety of domestic duties. At the tender age of twelve, Anna Mary went to work as a "hired girl" on a neighboring farm, helping a wealthier family with the household chores. She was to pursue this sort of work for the next fifteen years until, at the age of 27, she met a "hired man," Thomas Salmon Moses, whom she married.
The year was 1887, and Thomas had been told that the Reconstruction-era South was a land of opportunity for Yankees such as himself. Within hours of their wedding, the couple was on a train headed for North Carolina, where Thomas had secured a job managing a horse ranch. However, he and his bride never made it beyond Staunton, Virginia.
Here they stopped for the night and were persuaded to take over as tenants on a local farm. Anna Mary immediately fell in love with the beautiful Shenandoah Valley–her chilly New York State home (albeit mountainous) would forever after seem a "swamp" by comparison. Life was not always easy, though. Anna Mary, who believed in pulling her weight, bought a cow with her own savings and supplemented the family income by churning butter. Later, when times were tough, she made and sold potato chips. She gave birth to ten children, of whom only five survived infancy. Still, the family prospered, eventually earning enough to buy their own farm.
Anna Mary Moses, known by then as "Mother Moses" to many of her neighbors, would happily have spent the rest of her life in Virginia, but Thomas was homesick. In 1905, he persuaded his wife to return North. "I don't think a bit has changed since we left," Anna Mary commented, "the gates are hanging on one hinge since I went away." She and Thomas bought a farm in Eagle Bridge, New York, not far from her birthplace. They named their farm "Mount Nebo", prophetically, after the Biblical mountain where Moses disappeared. It was on this farm, in 1927, that Thomas Moses died of a heart attack.
Anna Moses was not one to sit idle. Though all her children were now grown, there was still plenty of work to be done on the farm. Later she would joke, "If I didn't start painting, I would have raised chickens." Or, upon further reflection, "I would rent a room in the city some place and give pancake suppers." In 1932, Moses went to Bennington to take care of her daughter Anna, who was suffering from tuberculosis. It was Anna who showed her mother a picture, embroidered in yarn, and challenged her to duplicate it. So Anna Mary Robertson Moses began stitching what she called "worsted" pictures and giving them away to anyone who'd have them. When Moses complained that arthritis made it hard for her to hold a needle, her sister Celestia suggested she paint instead. In this casual manner, the career of Grandma Moses began.
Soon Moses had more paintings than she could realistically make use of. She sent some to the Cambridge country fair, along with her canned fruits and jams. "I won a prize for my fruit and jam," she sardonically noted, "but no pictures." Here Grandma Moses' painting career might have floundered. For much as she loved art, Anna Mary Robertson Moses was above all a sensible woman, and to pursue art for art's sake alone would, by and by, have come to seem a petty indulgence. But then, in 1936 or '37, Caroline Thomas, the wife of the druggist in the neighboring village of Hoosick Falls, invited Moses to contribute to a women's exchange she was organizing.
Moses' paintings sat in the drugstore window, gathering dust next to crafts and other objects created by local homemakers, for several years. Then, during Easter week of 1938, a New York City collector named Louis Caldor chanced through town. Caldor traveled regularly in connection with his job as an engineer for the New York City water department, and he was in the habit of seeking out native artistic "finds."  The paintings in the drugstore window caught his eye; he asked to see more and ended up buying the whole lot. He also got the artist's name and address and set off to meet her in person.
The Moses' family clearly thought Caldor was crazy when he told their Grandma he'd make her famous. And indeed, for the next few years, it seemed the family was right. Caldor brought his trove of Moses paintings to New York City and began doggedly making the rounds of museums and galleries. Even those who admired the work lost interest when they heard the artist's 'age'. Turning 78 in 1938, Moses hardly seemed worth the effort and expense involved in mounting an exhibition; her life expectancy was such that most dealers felt they would never reap a profit on their initial investment. Still, Caldor persisted, and in 1939 he had his first limited success: the collector Sidney Janis selected three Moses paintings for inclusion in a private viewing at the "Museum of Modern Art" in Manhattan, New York City. However, this exhibition, which was open only to Museum members, had no immediate impact.
Finally, in 1940, Caldor stopped at the "Galerie St. Etienne". Recently founded by Otto Kallir, a Viennese emigré, the "Galerie St. Etienne" specialized in modern Austrian masters such as Gustav Klimt, Oskar Kokoschka and Egon Schiele. But Kallir, like many of the pioneers who championed modernism in the pivotal decades between the two world wars, was also interested in the work of self-taught painters. In Europe, this trend had been established when Picasso "adopted" the painting toll collector Henri Rousseau, and was furthered by the published writings of the Russian-born Expressionist Vasily Kandinsky. Essentially, these artists and their various followers believed that the work of self-taught artists was purer and more original than that of trained painters. In tandem with a concerted effort to renounce academic tradition, the contemporary avant-garde looked to the example of those who, for whatever reason, had been denied formal training.
Anna Mary Robertson Moses made her public debut at the Galerie St. Etienne in October 1940. Otto Kallir had titled the exhibition "What a Farmwife Painted," thinking that the artist's name, completely unknown, did not merit attention. It was only some months later that a journalist, interviewing friends in Eagle Bridge, came upon and then popularized the local nickname "Grandma Moses." The St. Etienne exhibition, though well publicized and well attended, was only a modest success. What really got Moses' career rolling was a Thanksgiving Festival organized by Gimbels Department Store shortly after the St. Etienne show closed. A substantial group of paintings was reassembled at Gimbels, and the artist was invited to come to New York. In her little black hat and lace-collared dress, accompanied by the proprietary Caroline Thomas, Moses (perhaps remembering her experiences at the country fair) delivered a forthright public address on her jams and preserved fruits. The hardboiled New York press corps was delighted, and the legend of Grandma Moses was born!
In defiance of every precedent, Grandma Moses became a  'SUPERSTAR'!
She did not do so willfully or suddenly, but she did so nonetheless. Her talk at Gimbels in 1940 brought a burst of publicity, and Moses was soon something of a local celebrity, but her renown was confined to New York State. She exhibited at a number of upstate venues and began to be besieged by vacationers seeking artistic souvenirs. For some years, Moses resisted signing a formal contract with Kallir, believing she could manage matters herself. Finally, in 1944, frustrated by the seasonal nature of her tourist-oriented business and by the difficulty collecting payment from some of her customers, she agreed to be represented exclusively by the Galerie St. Etienne and the American British Art Center, whose director, Ala Story, had also become a steady buyer of Moses' work.
The events that established Moses as a national and then international celebrity followed in quick succession. Kallir and Story immediately launched a series of traveling exhibitions that would, over the ensuing two decades, bring Moses' work to more than thirty American states and ten European nations. In 1946, Kallir edited the first monograph on the artist, "Grandma Moses: American Primitive", and oversaw the licensing of the first Grandma Moses Christmas cards. Both projects proved so successful that the following year the book was reprinted and the greeting card license taken over by "Hallmark". In 1949, Moses traveled to Washington to receive a special award from President Harry S. Truman. The next year, a documentary film on her life, photographed by Erica Anderson, directed by Jerome Hill, and with narration by Archibald MacLeish, was nominated for an Academy Award. Her autobiography, My Life's History, was published in 1952.
The dawning age of mass communications gave the public unprecedented access to Grandma Moses and her work. In addition to traveling exhibitions, books and greeting cards, people could enjoy posters and even mural-sized reproductions, china plates, drapery fabrics and a number of other licensed Moses products. By live-remote broadcast–then a technological marvel.  Moses' voice was beamed out from her home in Eagle Bridge to the larger world.  A rare use of color television was made to show Moses' paintings when she was interviewed by Edward R. Murrow in 1955. Lillian Gish even portrayed the artist in one of the first televised "docu-dramas."
The rags-to-riches saga of the elderly painter captured the American imagination. Facing the harsh realities of the Cold-War era, the public took heart in a real-life tale that seemed to prove the old adage, "it's never too late." The media seemingly never tired of repeating Moses' fairy-tale story. In 1953, she was featured on the cover of "Time Magazine"; in 1960, Life sent noted photographer Cornell Capa to do a cover story on the artist's 100th birthday. That birthday, declared "Grandma Moses Day" by New York's governor, Nelson Rockefeller, was celebrated almost like a holiday in the nation's press. The fanfare was repeated the following year, when Moses turned 101. Everyone rejoiced at the artist's longevity. Grandma Moses passed away several months after her 101st birthday, on December 13, 1961. Her death was front page news all over America and throughout much of Europe.
CHRONOLOGY, EXHIBITION HISTORY AND BIBLIOGRAPHY
1860 Anna Mary Robertson is born on September 7 in Greenwich, New York, the third of ten children of Mary Shannahan and Russell King Robertson, a farmer.
1872 Leaves home to work as "hired girl" on neighboring farm. Anna Mary will spend most of the next fifteen years in this manner, learning how to sew, cook, and keep house for various wealthier neighbors.
1870s Obtains a few years of schooling along with children of family for whom she works.
1887 On November 9, marries Thomas Salmon Moses, the "hired man" on farm where she is then employed. The couple move to Virginia, where they work as tenant farmers for a number of years until saving enough to buy their own place. Mrs. Moses contributes to family's income by producing butter and potato chips. Gives birth to ten children, of whom five die in infancy.
1905 The family returns to upstate New York, urchasing farm in Eagle Bridge, not far from Anna Mary's birthplace.
1909 Moses's mother dies in February, her father in June.
1918 Paints first large picture on fireboard in parlor.
1920s Paints landscapes on panels of "tip-up" table and occasional pictures for relatives and friends.
1927 On January 15, her husband, Thomas Salmon Moses dies of heart attack.
1932 Goes to Bennington, Vermont, to assist daughter Anna, who is ill with tuberculosis. At Anna's suggestion, makes first "worsted" embroidered pictures. After Anna's death, Moses stays on to care for her two grandchildren.
1935 Returns to her farm in Eagle Bridge, where she lives with youngest son Hugh, his wife Dorothy, and their children. Begins to paint in earnest and exhibits pictures at local events, such as fairs and charity sales. Moses later recalls receiving prizes for her preserves at the county fair, but nothing for her paintings.
1938 A display of her pictures at Thomas's Drugstore in Hoosick Falls, New York, is discovered by Louis Caldor, a traveling engineer and amateur collector. Caldor vows to make Moses famous, but her family scoffs at the idea; he sends her her first professional artist's paints and canvases.
1939 At Caldor's instigation, three Moses paintings are included in show of "Contemporary Unknown American Painters" in Members' Rooms of Museum of Modern Art in New York (October 18–November 18). Exhibition is not open to the general public and thus has little impact. Most art dealers whom Caldor approaches refuse to commit to a 79-year-old artist.
1940 Otto Kallir, owner of Galerie St. Etienne in New York, is taken with the Moses paintings Caldor shows him and mounts artist's first one-woman show, "What a Farm Wife Painted" (October 9–31). In November, Gimbels Department Store features Moses' work in a "Thanksgiving Festival." She attends and captivates press and public alike.
1941 Receives New York State Prize for Old Oaken Bucket at Syracuse Museum of Fine Arts (now Everson Museum of Art), Syracuse, New York. The painting is purchased by Thomas J. Watson, founder of IBM. Celebrities such as Katherine Cornell and Cole Porter begin to collect her work.
1942 Chapter devoted to Grandma Moses in They Taught Themselves by Sydney Janis (New York: The Dial Press), and three paintings included in exhibition of same title (Marie Harriman Gallery, New York; February 9–March 7). American British Art Center, New York, presents "Anna Mary Robertson Moses: Loan Exhibition of Paintings" (December 7–22).
1944 Galerie St. Etienne cements its commitment to Moses, presenting two exhibitions of her work ("New Paintings by Grandma Moses: The Senior of the American Primitives," in February, and "Grandma Moses," in December).
1944 Otto Kallir organizes extensive traveling exhibition program, which over the course of the next two decades brings Moses' work to innumerable cities throughout the United States (Alabama, California, Connecticut, Delaware, District of Columbia, Florida, Illinois, Indiana, Iowa, Kansas, Louisiana, Maryland, Massachusetts, Minnesota, Missouri, Montana, Nebraska, New Hampshire, New York, North Carolina, Ohio, Oklahoma, Pennsylvania, South Carolina, Tennessee, Texas, Vermont, Virginia, Washington, Wisconsin).
1945 Moses is featured artist at the "Women's International Exposition: Woman's Life in Peacetime," held in Madison Square Garden, New York (November 13–18).
1945-1950 Represented in every annual juried exhibition of the Carnegie Institute, Pittsburgh, Pennsylvania.
1946 Gains significant national exposure through publication of first Moses greeting cards and best-selling monograph, Grandma Moses, American Primitive (autobiographical notes by Grandma Moses, edited by Otto Kallir, and with an introduction by Louis Bromfield; New York: The Dryden Press). Sixteen million Grandma Moses Christmas cards sold. Moses painting featured in ad for Richard Hudnut lipstick, "Primitive Red."
1947 Second, expanded edition of Grandma Moses, American Primitive is published (Garden City, N.Y.: Doubleday & Co.), and Hallmark Company takes over Moses Christmas- and greeting-card license. One-woman exhibition at Galerie St. Etienne, New York (May 17–June 14).
1948 First large color reproductions of Moses paintings produced by Arthur Jaffe Heliochrome Company, New York. Exhibition, "Ten Years Grandma Moses," at Galerie St. Etienne, New York (Thanksgiving–Christmas).
1949 Moses's son Hugh dies in February. Meets President Harry S Truman in May, when she travels to Washington, D.C., to receive Women's National Press Club Award "For Outstanding Accomplishment In Art." Simultaneous exhibition, "Paintings by Grandma Moses," at Phillips Gallery, Washington (May 8–June 9). Receives Honorary Doctorate from Russell Sage College, Troy, New York, in June. Included in Pictorial Folk Art in America, New England to California by Alice Ford (New York and London: The Studio Publications). Riverdale Fabrics begins producing line of drapery fabrics based on Moses' paintings, and Atlas China Company issues series of plates featuring four Moses paintings.
1950 Documentary color film produced by Jerome Hill, with narration by Archibald MacLeish and photography by Erica Anderson, nominated for Academy Award. First European Moses exhibition, sponsored by the U.S. Information Service (Vienna, Munich, Salzburg, Berne, The Hague, Paris; June–December). The artist's birthday is celebrated in the national press for first time; Albany Institute of History and Art, Albany, New York, mounts commemorative exhibition, "Grandma Moses: Exhibition Arranged on the Occasion of Her 90th Birthday" (September 7–October 15). Included in Primitive Painters in Americaby Jean Lipman and Alice Winchester (New York: Dodd, Mead & Co.). Otto Kallir establishes umbrella organization, Grandma Moses Properties, to administer artist's copyrights and trademarks; subsequent licensing program revolves around print reproductions and items of domestic use.
1951 In April, moves from her old farm to more comfortable one-story house across the road, and daughter Winona Fisher takes over running of household. Receives Honorary Doctorate from Moore Institute of Art, Philadelphia, Pennsylvania, in March.
1952 Publication of autobiography, "My Life's History, by Grandma Moses", edited by Otto Kallir (New York: Harper & Row/London: André Deutsch/Frankfurt am Main: Ullstein Verlag, 1957/Utrecht: A.W. Brauna & Zoon, 1958). Lillian Gish portrays artist in televised "docudrama" based on the autobiography. In December, Galerie St. Etienne issues brief memoir, Christmas, by Grandma Moses.
1953 Guest speaker at The New York Herald Tribune Forum in New York, October 20. Featured on cover of Time Magazine. Crown Potteries produces dinnerware based on the painting Home for Thanksgiving.
1954-1955 Five paintings included in "American Primitive Paintings from the 17th Century to the Present," exhibition circulated in Europe by the Smithsonian Institution for the U.S. Information Agency (Lucerne, Vienna, Munich, Dortmund, Stockholm, Oslo, Manchester, London, Trier).
1955 Interviewed by Edward R. Murrow for "See it Now" television series, broadcast December 13. "A Tribute to Grandma Moses," on the occasion of her 95th birthday, presented by Thomas J.Watson and the Fine Arts Department of the International Business Machines Corp., IBM Gallery, New York (November 28 –December 31). Moses travels to New York to attend opening; her birthday again gets national press coverage.
1956 Painting specially commissioned by President Eisenhower's Cabinet is given to him on third anniversary of his inauguration. Publication of set of four color reproductions, "The Four Seasons" (Port Chester, New York: Donald Art Company).
1957 "Grandma Moses: New York Showing of an Exhibition Presented in Europe During 1955–1957," at Galerie St. Etienne, New York (May 6–June 4).
1958 Moses's daughter, Winona Fisher, dies on October 14. Son Forrest and his wife Mary move into house to take care of her.
1959 Included in Modern Primitives: Masters of Naïve Painting by Oto Bihalji-Merin (New York: Harry N. Abrams). Publication of portfolio of six color reproductions, "Six of My Favorite Paintings" (New York: Catalda Fine Arts).
1960 Governor Nelson A. Rockefeller proclaims artist's 100th birthday "Grandma Moses Day" in New York State. The IBM Gallery in New York celebrates with "My Life's History: A Loan Exhibition of Paintings by Grandma Moses" (September 12–October 6), and artist herself dances a decorous jig with her physician. Life Magazine publishes cover story, with photographs by Cornell Capa.
1960-1961 "My Life's History," exhibition circulated by the Smithsonian Institution (Milwaukee, Washington, D.C., Chattanooga, Baton Rouge, Seattle, Laguna Beach, Fort Worth, Winnipeg, Chicago).
1961 Grandma Moses taken to Health Center in Hoosick Falls, New York, on July 18. New York Governor Nelson A. Rockefeller again proclaims artist's birthday "Grandma Moses Day." Publication of The Grandma Moses Storybook, illustrated by Grandma Moses (containing stories and poems by 28 writers, edited by Nora Kramer, and with a biographical sketch by Otto Kallir; New York: Random House). Grandma Moses dies, aged 101, at Health Center on December 13 and is buried in Maple Grove Cemetery, Hoosick Falls.
SELECTED SOLO EXHIBITIONS
1940 "What a Farm Wife Painted," Galerie St. Etienne, NY
1944 "New Paintings by Grandma Moses," Galerie St. Etienne, NY
1944-56 Traveling exhibitions: Massachusetts, New Hampshire, Washington DC, Montana, Virginia, California, Wisconsin, Minnesota, Texas, Ohio, Pennsylvania, Chicago, North Carolina, Kansas, Maryland, Connecticut, Alabama, Tennessee, Illinois, Iowa, Missouri, Nebraska, Oklahoma, Vermont, Delaware, Louisiana, Indiana, Florida, Washington State, NY State, South Carolina
1949 "Paintings by Grandma Moses," Phillips Collection, Washington
1950 "Grandma Moses: 50 Paintings"; European traveling exhibition: Vienna, Munich, Salzburg, Bern, the Hague, Paris
1955 "A Tribute to Grandma Moses," IBM Gallery, NY
1955-57 European traveling exhibition: Bremen, Stuttgart, Cologne, Hamburg, London, Oslo, Aberdeen, Edinburgh, Glasgow
1960 "My Life's History," IBM Gallery, NY; Milwaukee, Washington DC, Chattanooga, Baton Rouge, Seattle, Laguna Beach, Fort Worth, Winnipeg
1962 "Grandma Moses: Memorial Exhibition," Galerie St. Etienne, NY
1963-64 "A Life's History in 40 Pictures"; European traveling exhibition: Vienna, Paris, Bremen, Hamburg, Hameln, Fulda, Düsseldorf, Darmstadt, Mannheim, Berlin, Frankfurt, Oslo, Stockholm, Helsinki, Göteborg, Copenhagen, Moscow
1968-Present "The Grandma Moses Gallery" (permanent installation), Bennington Museum, Vermont
1969 "Art and Life of Grandma Moses, Gallery of Modern Art, NY
1979 "Grandma Moses," National Gallery of Art, Washington, DC
1982-83 "Grandma Moses: The Artist Behind the Myth," American traveling exhibition: Galerie St. Etienne; Danforth Museum, Framingham, Massachusetts; NY State Museum, Albany
1984 "The World of Grandma Moses," American traveling exhibition: Museum of American Folk Art ; Baltimore Museum of Art; Norton Gallery Cheekwood Fine Arts Center, Nashville; Joslyn Art Museum, Omaha; Lakeview Museum of Art, Peoria
1987 "Grandma Moses," Japanese traveling exhibition: Isetan Museum, Tokyo; Daimaru Museum, Osaka
1990 "Grandma Moses," Japanese traveling exhibition: Isetan Museum, Tokyo; Daimaru Museum, Osaka; Daimaru Museum, Kyoto; Funabashi Art Forum, Funabashi; Takashimaya Museum, Yokohama
1995 "Grandma Moses," Japanese traveling exhibition: Daimaru Museum, Osaka; Yasuda Kasai Museum, Tokyo; Shimonoseki Museum, Yamaguchi; Sogo Museum, China
1996 "Grandma Moses: Pictures from the Past," Fort Lauderdale Museum of Art
2001-02 "Grandma Moses in the 21st Century," American traveling exhibition: National Museum of Women in the Arts, Washington DC; San Diego Museum of Art, CA; Orlando Museum of Art, FL; Gilcrease Museum, Tulsa, OK; Columbus Museum of Art, OH; Portland Art Museum, OR
2002 "Grandma Moses, Reflections of America," Galerie St. Etienne, NY
2003-04 "Grandma Moses in the 21st Century," The Wadsworth Atheneum Museum of Art, CT
2005 "Grandma Moses," Japanese traveling exhibition: Bunkamura Museum, Tokyo; Daimaru Museum, Kyoto; Daimaru Museum, Sapporo
2006-08 "Grandma Moses: Grandmother to the Nation," traveling exhibition: Fenimore Art Museum, Cooperstown NY; Reynolda House Museum, Winston-Salem NC; Hunter Museum, Chattanooga TN; Crocker Art Museum, Sacramento CA; Ringling Museum, Sarasota FL.
SELECTED GROUP EXHIBITIONS
1939 "Contemporary Unknown Painters," Museum of Modern Art, NY
1954-55 "American Primitive Painting," European traveling exhibition: Lucerne, Vienna, Munich, Dortmund, Stockholm, Oslo, Manchester, London, Trier
1964 "Der Lusthof der Naïven," European traveling exhibition: Museum Boymans van Beuningen, Rotterdam; Musée National d'Art Moderne, Paris
1966 "1st Triennial of Insitic Art," Slovenska, Národná Galéria, Bratislava
1974-75 "Die Kunst der Naïven," Haus der Kunst, Munich; Kunsthaus, Zurich
1981-82 "The Folk Art Tradition," Galerie St. Etienne, NY
1989 "Masters of Naive Art," Japanese traveling exhibition: Daimaru Museum, Kyoto, Japan; Yamagataya Art Gallery, Yamagataya; Daimaru Art Gallery, Hakata; Daimaru Art Gallery, Tokyo
1998-99 "Self-Taught Artists of the 20th Century," American traveling exhibition: Philadelphia Museum of Art; High Museum, Atlanta; Amon Carter Museum, Forth Worth; Memorial Art Gallery, Rochester; Wexner Center, Columbus
SELECTED LITERATURE
1942 THEY TAUGHT THEMSELVES: AMERICAN PRIMITIVE PAINTERS OF THE 20TH CENTURY by Sidney Janis. Dial Press, New York.
1946-47 GRANDMA MOSES: AMERICAN PRIMITIVE. Edited by Otto Kallir. Doubleday & Co., New York.
1952 GRANDMA MOSES: MY LIFE'S HISTORY. Edited by Otto Kallir. Harper & Row, New York.
1961 THE GRANDMA MOSES STORYBOOK. Edited by Nora Kramer. Random House, New York.
1962 THE NIGHT BEFORE CHRISTMAS by Clement C. Moore. Random House, New York.
1971 BAREFOOT IN THE GRASS: THE STORY OF GRANDMA MOSES by William H. Armstrong. Doubleday & Co., Garden City, New York.
1972-75 GRANDMA MOSES. By Otto Kallir. Harry N. Abrams, (1972); New American Library (1975).
1982 GRANDMA MOSES: THE ARTIST BEHIND THE MYTH. By Jane Kallir. Clarkson N. Potter, New York.
1985 THE GRANDMA MOSES AMERICAN SONGBOOK edited by Dan Fox. Henry N. Abrams.
1989 GRANDMA MOSES: PAINTER. By Tom Biracree. Chelsea House Publishers, New York.
1991 GRANDMA MOSES. By Margot Cleary. Crescent Books.
1996 GRANDMA MOSES: AN AMERICAN ORIGINAL. By William C. Ketchum. Smithmark Publishers, New York.
1997 GRANDMA MOSES: 25 MASTERWORKS. By Jane Kallir. Harry N. Abrams, New York.
2000 THE YEAR WITH GRANDMA MOSES: by W. Nikola-Lisa. Henry Holt and Company, New York.
2001 THE ESSENTIAL GRANDMA MOSES. By Jane Kallir. Harry N. Abrams, NY.
2001 GRANDMA MOSES IN THE 21ST CENTURY. By Jane Kallir. Art Services International, Virginia.
2006 DESIGNS IN THE HEART: THE HOMEMADE ART OF GRANDMA MOSES. By Karal Ann Marling. Harvard University Press, Cambridge MA.

Jean-Michel Basquiat /
American Painter -Primitive, Neo-Expressionist
1960 – 1988
"Every line means something."                              —Basquiat, about his work.
"I don't think about art when I'm working. I try to think about life."                                   —Basquiat, about thinking while painting.
"I don't listen to what art critics say. I don't know anybody who needs a critic to find out what art is."                                                                  —Basquiat, about art critics.
"I really know how to draw."                                  —Basquiat, about his ability to draw.
Artist Jean-Michel Basquiat was born in Brooklyn, New York, on December 22, 1960. He was a 'Naive' or 'Primitive Neo-Expressionist' graffiti painter in the 1980's. Famous for his primitive style and collaboration with pop artist. Andy Warhol who due to suspected medical error, tragically predeceased Basquiat. He is one of the best-known artists of his generation and one of only a small number of Hispanic-African-American artists to have achieved international recognition.
Jean-Michel Basquiat emerged from the "Punk" scene in New York as a gritty, street-smart graffiti artist, who successfully crossed over from his "downtown" origins to the international art gallery circuit – all within a few fast-paced years, Basquiat swiftly rose to become one of the most celebrated and possibly most commercially exploited American "naive" painters within the widely celebrated 'Neo-Expressionism' art movement.
Early, he attracted attention for his street graffiti under the name "SAMO" (same old shit) in New York City, where he sold sweatshirts and postcards featuring his artwork on streets, before his painting career took off. He was mentored by Andy Warhol and collaborated with him in the mid-1980's.  Their collaboration resulted in a joint show.  Basquiat died on August 12, 1988, in New York City.
Early Years                                                       Basquiat's father, Gerard Basquiat, an accountant was born in Port-au-Prince, Haiti and his mother, Matilde was born in Brooklyn of Puerto Rican parents.
It is clear in his work that Basquiat's diverse cultural heritage was a source of inspiration.
A self-taught artist, Basquiat began drawing at an early age on sheets of paper his father, brought home from the office. As he delved deeper into his creative side, his mother strongly encouraged him to pursue his artistic talents.
Basquiat first attracted attention for his graffiti in New York City in the late 1970s under the name "SAMO" (same old shit). Working with a close friend he 'tagged' subway trains and Manhattan buildings with perplexing pictures and words.
In 1977, Basquiat quit high school only one year before he was slated to graduate from "Edward R. Morrow High School" in Midwood, a section of Brooklyn in New York City.
To make ends meet, he sold sweatshirts and postcards featuring his artwork on the streets of New York City.
Commercial Success
Jean-Michel was 18 when he approached Henry Geldzahler (curator, critic and public official whose enthusiastic advocacy of contemporary art made his name synonymous with the art scene in New York for three decades) and Andy Warhol in a SoHo (South of Houston Street) restaurant. He sold Andy a postcard for one dollar, but was dismissed by Geldzahler as "too young." Less than three years later (1981) he was invited by artist and filmmaker, Diego Cortez, to participate in the P.S. 1 show, (Institute for Art and Urban Resources), alongside more than twenty artists including Keith Haring, Robert Mapplethorpe, Kenny Sharf and Andy Warhol).
Jean-Michel Basquiat's productive career spanned just one short decade, yet he is one of the best-known artists of his generation and one of only a small number of Hispanic-African-American artists to have achieved international recognition. Graduating from subway walls to canvas and from the streets of New York to the galleries of SoHo (South Of Houston Street vs prestige uptown galleries).  So personal and unique, this artist and his work may forever remain a mystery to those who seek explanation.
Basquiat's Crowns (1981-2)
Crowns appears frequently in his paintings, signaling ambition and understanding of art history. Many artists used their monarchs to symbolize their own 'majestic' powers and Basquiat, lacking one, continued the tradition in his own way.
Basquiat was ambitious and out to become king of the pack of American artists. One friend who knew him early on wrote: "He could walk into a thrift store with five bucks and come out looking like a king. In fact he basically behaved like a king who had accidentally switched lives with an identical pauper."
Three years of struggle gave way to fame in 1980, when his work was featured in a group show. His work and style received critical acclaim for his fusion of words, symbols, stick figures, and animals. Soon, his paintings came to be adored by an art loving public that had no problem paying as much as $50,000 for a Basqiat original.
His rise coincided with the emergence of "Neo-Expressionism", which ushered in a wave of new, young experimental artists. In the mid 1980's Basquiat collaborated with celebrity pop artist Andy Warhol.  This friendship resulted in a successful joint show of their work, that featured a series of corporate logos and cartoon characters.
On his own, Basquiat continued to exhibit around the 'country' and the 'world'. In 1986, he traveled to Africa for a show in Abidjan, Ivory Coast. That same year, at age 25 he exhibited nearly 60 paintings at the "Kestner-Gesellschaft Gallery" in Hanover, Germany and became the youngest artist to ever showcase work there.
Heroine Addiction 
As Jean-Michel Basquiat's popularity soared, so did his heroine addiction. By the mid-1980's, friends became increasingly              concerned by his excessive drug use. He became paranoid and isolated himself from the world around him for long stretches. Desperate to kick his heroin addiction he left New York for Hawaii in 1988, returned a few months later and claimed to be "clean and sober".
Unfortunately he was not clean and sober and died of a drug overdose in New York City, on August 12, 1988  at age 27.  Although his art career was brief, Jean-Michel Basquiat is properly credited with bringing the African-American and Latino experience into the international elite art world.
It has been written of Basquiat that he "embodies the myth of a modern 'Icarus' who rose too quickly and burnt himself in the heat of the sun."
How much is a "Basquiat" worth?
"Dustheads" was a work by Jean-Michel Basquiat, sold for a record breaking price of 48.8 million dollars at Christie's. "Basquiat Painting, 'Dustheads,' Fetches Record $48.8 Million At "Christie's Auction In New York". This page was last modified on 3 January 2017, at 09:35.
Jean-Michel Basquiat was born on December 22, 1960 in Brooklyn, New York, in "Brooklyn Hospital". His father, Gerard Basquiat was born in Port-au-Prince, Haiti and his mother Matilde was born in Brooklyn, of Puerto Rican parents.
Jean-Michel Basquiat's productive career spanned just one short decade, yet he is considered one of the best-known artists of his generation and one of only a small number of Hispanic-African-American artists to have achieved international recognition. Graduating from subway walls to canvas and from the streets of New York to the galleries of SoHo, the artist and his work will forever remain a mystery to those who seek explanation.
Jean-Michel's early years were spent with his middle class Haitian father, Gerard, who was unable to fulfill his son's need for nurturing and recognition. To fill the void, Jean-Michel hit the streets of New York at a young age where art became an outlet for his anger and empty childhood. Also known by the tag "SAMO," Jean-Michel's unique brand of graffiti was found throughout Manhattan as early as 1976. "His work from the first consisted of conceptual, enigmatic (hard to understand) combinations of words and symbols, executed with the curt simplicity of a late Roman inscription", according to Henry Geldzahler, longtime curator of twentieth-century art at the Metropolitan Museum of Art.
Jean-Michel was 18 when he approached Henry Geldzahler and Andy Warhol in a SoHo restaurant. He sold Andy a postcard for one dollar but was dismissed by Geldzahler as "too young." Less than three years later (1981) he was invited by artist and filmmaker, Diego Cortez, to participate in the P.S. 1 show, (Institute for Art and Urban Resources), alongside more than twenty artists including Keith Haring, Robert Mapplethorpe, Kenny Scharf and Andy Warhol.
Restorating Jean-Michel Basquiat's Tombstone, after years of outdoor exposure.
By Caroline Spivack | August 4, 2017 9:48am | Updated August 7, 2017 8:38am
A team of French preservationists touched up the tombstones of five New York artists including Park Slope native Jean-Michel Basquiat.
DNAinfo/Caroline Spivack
GREENWOOD HEIGHTS / "Greenwood Cemetery" Call it remastering the classics.
A team of French preservationists touched up the tombstones of five New York artists this week including Jean-Michel Basquiat as part of "Green-Wood Cemetery's" historic preservation program.
This year's project brought four budding conservationists from overseas armed with soft bristle brushes and biocide, who cleansed the graves of grime and restored them to gleaming masterpieces. 
"I feel it's important to respect the past and honor their memory," said Parisian volunteer Victor Vivancos after cleaning Basquiat's granite stone Thursday. "It's a funny feeling seeing their artwork and then working on their graves."
It's the 16th year "Green-Wood" has run the French exchange program with Preservation Volunteers, which has given various structures across the cemetery much needed makeovers after decades in the elements.
But the restoration process is a tricky business that requires a gentle hand and is as much about taking care of the works of art upon the artists' graves as it is about preserving the painters' legacy, said "Green-Wood's" manager of restoration and preservation. 
"I like to think about the headstones as sculptures," said Neela Wickremesinghe. "All the structures you see are 'miniature of sculptures' and 'architecture' and I think this shows how we're connected to different spheres of culture." 
Of the more than 400 artists peppered across the sprawling cemetery, the volunteers restored the headstones of 19th century painter Asher Durand; Eastman Johnson who co-founded the "Metropolitan Museum of Art": realist George Bellows; impressionist William Merritt Chase; and finally Basquiat, whose work "Untitled" sold for a whopping $110.5 million in May — the highest sum ever paid at auction for a U.S.-produced artwork.
During their stay volunteers viewed works by the painters and on Wednesday took a trip to the "Brooklyn Museum" where they got a taste of Basquiat's work before heading back to France at the end of the week.
In early 1982 Jean-Michel took the art world by storm with his rampageous one-man show at "Annina Nosei's Gallery". This momentum propelled him to the forefront of the Neo-Expressionist movement which was characterized by intense subjectivity of feeling and aggressively raw handling of materials. Jean-Michel, accustomed to pushing the envelope in all aspects of his life, had something special to offer the neo-expressionist admirer: "I cross out words so you will see them MORE – the fact that they are obscured makes you want to read them."
By the age of 24 Jean-Michel would be a veteran of one-man shows under the guidance of such notable art dealers as Nosei, Larry Gagosian, Mary Boone and Bruno Bischofberger. Bischofberger introduced Jean-Michel's art overseas as well as orchestrated the joint the collaboration of Warhol and Basquiat in 1985, which involved some 60 works.
Jean-Michel preferred drugs and women (including Madonna) over galleries, art dealers, collectors, and money (although one would be hard pressed to determine which he had more of). Lacking the fatherly support and acknowledgment he so desperately sought, Jean-Michel was unable to balance fame and fortune with his personal demons. His candle burned out on August 12th 1988, the result of a drug overdose. "Since I was seventeen, I thought I might be a star. I'd think about my heroes, Charlie Parker, Jim Hendrix . . . I had romantic feeling of how people had become famous," reminisced Jean-Michel before his death at age 27.
It has been written of Basquiat that he "embodies the myth of a modern Icarus who rose too quickly and burnt himself in the heat of the sun." However, Robert Damiani, (Deputy Mayor and Councilor for Cultural Affairs, New York) brings us to a more profound conclusion: "I believe that, as an expression of a time that is tragic like no other in the history of the world, he consciously aimed his flight in the opposite direction, toward the infernos that are unexplored even by the outcasts of humanity who live out their brief earthly existence in the sinister roar of the subway, no longer on the road, but underground, irresistibly attracted by the disturbing profundity of the abyss."
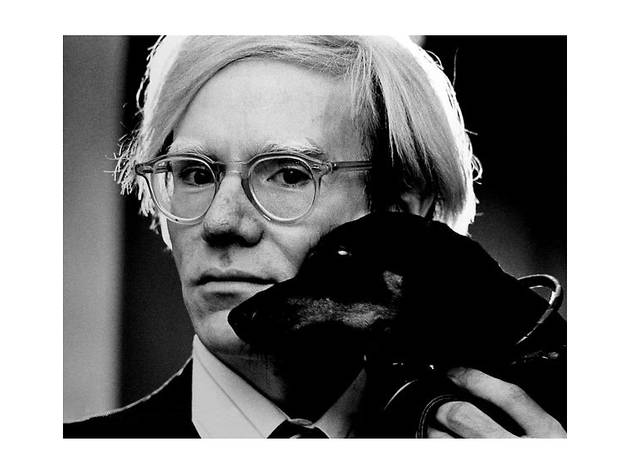 Andy Warhol

Andy Warhol & his "Campbell Soup Cans".

Andy Warhol's three piece steel "Campbell Soup Can" wrapped in a torn paper label.

Andy Warhol, Signing  a Collassal Campbell's soup can.

Paul Jackson Pollock

(January 28, 1912 – August 11, 1956), known professionally as Jackson Pollock, was an American painter and a major figure in the abstract expressionist movement. He was well known for his unique style of drip painting.

Jackson Pollock 1928.

Serendipity

Jackson Pollock was a highly trained artist, who studied seriously with Thomas Harte Benson at New York's "The Art Student's League". Ipso-facto his works are controlled, deliberate and the product of intellect and skill. As radical as 'his' paintings look, the styles of many other artists have also evolved and simplified over time.  A prime example are the works of  'Mondrian'. Mondrian's art, like Pollack's began with recognizable 'things' and in time his work became pure shape, line, color and movement.

Cotten pickers by Jackson Pollack. Thomas Harte Benson was Johnson Pollock's teacher at "The Art Student's League" in New York.

Thomas Hart Benton, taught Jackson Pollock at the "The Art Students League". This painting by Thomas Hart Benton is called, "The Music Lesson".

Famous 20th century artist Jackson Pollock revolutionized the world of modern art with his unique abstract painting techniques.

PEGGY Guggenheim in front of a Jackson Pollock mural on the Grand Canal, Venice.

Born in Cody, Wyoming, in 1912.

"It doesn't make much difference how the paint is put on as long as something has been said. Technique is just a means of arriving at a statement."

Jackson Pollock  During his lifetime, Pollock enjoyed considerable fame and notoriety. He was regarded as a mostly reclusive artist. He had a volatile personality, and struggled with alcoholism for most of his life. In 1945, he married the artist Lee Krasner, who became an important influence on his career and on his legacy. Pollock died at the age of 44 in an alcohol-related car accident. In December 1956, he was given a memorial retrospective exhibition at the Museum of Modern Art (MoMA) in New York City, and a larger more comprehensive exhibition there in 1967. More recently, in 1998 and 1999, his work was honored with large-scale retrospective exhibitions at MoMA and at The Tate in London.

Jackson Pollock, "Flags".

Early Life

Pollock was born in Cody, Wyoming in 1912, the youngest of five sons. His parents, Stella May McClure and Leroy Pollock, grew up in Tingley, Iowa. His father had been born McCoy but took the surname of his neighbors, who adopted him after his own parents had died within a year of each other. Stella and LeRoy Pollock were Presbyterian; the former, Irish; the latter, Scotch-Irish. LeRoy Pollock was a farmer and later a land surveyor for the government. Jackson grew up in Arizona and Chico, California.

Jackson Pollock painting on glass.

While living in Echo Park, California, he enrolled at Los Angeles' Manual Arts High School, from which he was expelled, after having been expelled another high school in 1928. During his early life, he experienced 'Native American' culture while on surveying trips with his father. In 1930, following his brother Charles Pollock, he moved to New York City where they both studied under Thomas Hart Benton at the Art Students League of New York. Benton's rural American subject matter shaped Pollock's work only fleetingly, but his rhythmic use of paint and his fierce independence were more lasting influences. From 1938 to 1942, Pollock worked for the WPA Federal Art Project.

Pollock working as usual, on the floor.

In attempts to fight his alcoholism, from 1938 through 1941 Pollock underwent Jungian psychotherapy with Dr. Joseph Henderson and later with Dr. Violet Staub de Laszlo in 1941-1942. Dr. Henderson was an eclectic who drew upon the spectrum of psychoanalytic theory, including Freud and Jung. Henderson made the decision to engage him through his art and had Pollock make drawings, which led to the appearance of many Jungian concepts in his paintings. Recently it has been hypothesized that Pollock might have had bipolar disorder.

The Springs period and the unique technique

In October 1945 Pollock married American painter Lee Krasner, and in November they moved to what is now known as the Pollock-Krasner House and Studio, at 830 Springs Fireplace Road, in Springs on Long Island, NY. Peggy Guggenheim lent them the down payment for the wood-frame house with a nearby barn that Pollock converted into a studio. There he perfected the technique of working with paint with which he became permanently identified.

Jackson Pollock & Lee Krasner's house & studio in East Hampton on Long Island.  The down payment was advanced by Peggy Guggenheim.

Jackson Pollack in his East Hampton New York studio.

Lee Krasner, Jackson Pollock & dog.

Pollock was introduced to the use of liquid paint in 1936 at an experimental workshop operated in New York City by the Mexican muralist David Alfaro Siqueiros. He later used paint pouring as one of several techniques on canvases of the early 1940s, such as "Male and Female" and "Composition with Pouring I." After his move to Springs, he began painting with his canvases laid out on the studio floor, and he developed what was later called his "drip" technique, turning to synthetic resin-based paints called alkyd enamels, which, at that time, was a novel medium. Pollock described this use of household paints, instead of artist's paints, as "a natural growth out of a need." He used hardened brushes, sticks, and even basting syringes as paint applicators. Pollock's technique of pouring and dripping paint is thought to be one of the origins of the term action painting.

Jackson Pollack, working on his property in East Hampton, on Long Island.

Jackson Pollock poses in front of one of his paintings.

With this technique, Pollock was able to achieve a more immediate means of creating art, the paint now literally flowing from his chosen tool onto the canvas. By defying the convention of painting on an upright surface, he added a new dimension by being able to view and apply paint to his canvases from all directions. One possible influence on Pollock was the work of the Ukrainian American artist Janet Sobel (1894-1968) (born Jennie Lechovsky). Sobel's work is related to the so-called "drip paintings" of Jackson Pollock. Peggy Guggenheim included Sobel's work in her The Art of This Century Gallery in 1945. The critic Clement Greenberg, with Jackson Pollock, saw Sobel's work there in 1946, and in his essay "American-Type' Painting" Greenberg cited those works as the first instance of all-over painting he had seen, stating that "Pollock admitted that these pictures had made an impression on him".

Jackson Pollock – Action Painting.

In the process of making paintings in this way, he moved away from figurative representation, and challenged the Western tradition of using easel and brush. He also moved away from the use of only the hand and wrist, since he used his whole body to paint. In 1956, Time magazine dubbed Pollock "Jack the Dripper" as a result of his unique painting style.

"My painting does not come from the easel. I prefer to tack the unstretched canvas to the hard wall or the floor. I need the resistance of a hard surface. On the floor I am more at ease. I feel nearer, more part of the painting, since this way I can walk around it, work from the four sides and literally be in the painting"

-Jackson Pollock, My Painting

Printed ladies skirt depicting a Jackson Pollock painting.

Synopsis

In 1949, Life magazine ran a feature article about Jackson Pollock that bore this question in the headline: "Is he the greatest living painter in the United States?" Could a painter who flung paint at canvases with a stick, who poured and hurled it to create roiling vortexes of color and line, possibly be considered "great"? New York's critics certainly thought so, and Pollock's pre-eminence among the Abstract Expressionists has endured, cemented by the legend of his alcoholism and his early death. The famous 'drip paintings' that he began to produce in the late 1940s represent one of the most original bodies of work of the century. At times they could suggest the life-force in nature itself, at others they could evoke man's entrapment – in the body, in the anxious mind, and in the newly frightening modern world.

Jackson Pollock, "Water Birds".

Key Ideas

Pollock's tough and unsettled early life growing up in the American West shaped him into the bullish character he would become. Later, a series of influences came together to guide Pollock to his mature style: years spent painting realist murals in the 1930s showed him the power of painting on a large scale; Surrealism suggested ways to describe the unconscious; and Cubism guided his understanding of picture space.

Jackson Pollock & wife Lee Krasner, also a famous abstract painter.

In 1939, Pollock began visiting a Jungian analyst to treat his alcoholism, and his analyst encouraged him to create drawings. These would later feed his paintings, and they shaped Pollock's understanding of his pictures not only as outpourings of his own mind, but expressions that might stand for the terror of all modern humanity living in the shadow of nuclear war.

"Going West":  here we see the influence of Jackson Pollock's mentor, Thomas Harte Benson.

Pollock's greatness lies in developing one of the most radical abstract styles in the history of modern art, detaching line from color, redefining the categories of drawing and painting, and finding new means to describe pictorial space.

Graves of Jackson Pollock & Lee Krasner Pollock, Green River Cemetary in Springs, East Hampton Cemetary.